MetaTrader 4 (MT4) – What Makes it the Best Platform for Beginners?
MetaTrader 4, a name that any new trader will surely come across, is one of the leading and highly popular trading platforms. Since its release in 2005, MetaTrader 4 has grown immensely catering to the requirements of traders of all levels. If you have decided to try your luck in the world of forex trading, MetaTrader 4 is something you should definitely try.
In this detailed article, we will discuss everything you need to know about MetaTrader 4 along with the factors that make this platform best for beginners.
MetaTrader 4 – Brief Introduction
Developed by MetaQuotes, MetaTrader 4 is a trading platform for online trading in forex, CFDs, and future markets. This software can be downloaded for free directly from the MetaQuotes website and other online forex brokers as well. Due to its popularity, almost all the online brokers have maintained MT4 compatibility with their platform. The developers license the software to foreign exchange brokers who then further provide this to their clients. MetaTrader 4 features a number of tools and resources to assist the traders in various areas like managing trades, analyze the price trends, and even create their customized automated trading programs.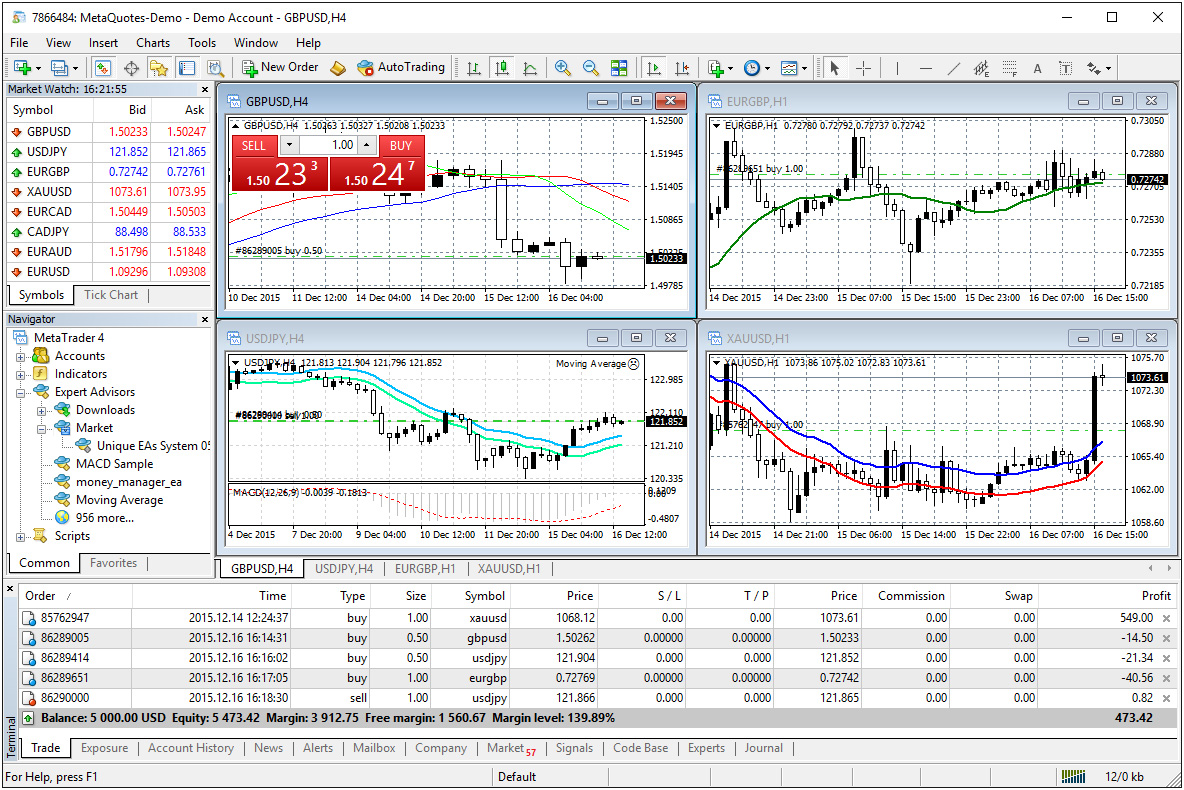 Why Beginners Should Use MetaTrader 4
Forex trading is a highly risky activity that should be performed with extreme caution. It is highly recommended for beginners to get as much knowledge as possible to make sure they are able to deal with the risks involved. MetaTrader 4, although is the perfect trading platform for beginners, it shouldn't be considered as something that can eliminate the risks.
Here are a few factors that make MetaTrader 4 suitable for beginners:
Demo Account
Experience is everything you need to gain to succeed in the forex trading market. MetaTrader 4 offers opening a demo account that gives you the best possible opportunity to learn about forex trading in a realistic way. A demo account mimics a trading account and helps in learning about the features and tools. Through this account, a trader can perform trades without investing money and gain experience to use with the live trading account.
Chartings
When it comes to forex trading, the importance of charts cannot be ignored. These are the only source through which a trader can estimate the price movement of currency pairs in the future. MetaTrader 4 offers multiple types of charts including bar charts and candlesticks through which a trader can understand the pattern of the price movements and make the next move. These charts come with a number of technical trading tools, indicators (oscillators and trend ones), and trading theories. The good thing about these charts in MetaTrader 4 is that they can be customized.
Upon customization, a MetaTrader 4 chart looks like this: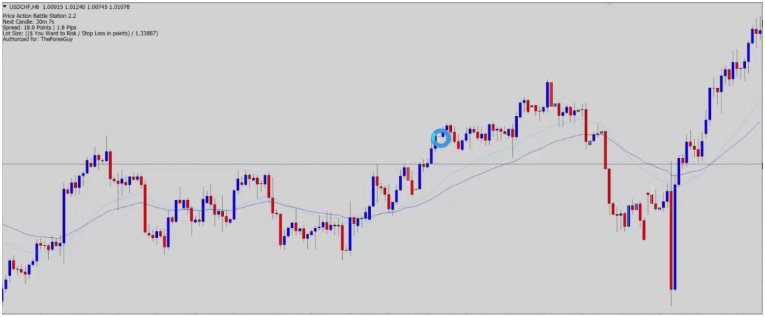 Traders can draw lines, change colors, and use other tricks to understand the pattern the way they are more comfortable with.
Custom Indicators
As mentioned earlier, MT4 comes with different indicators like oscillators and others. These are standard offerings for a retail trader. However, these may not be suitable for all traders. In order to facilitate the beginner traders, MetaTrader 4 allows the option to import a custom indicator. Simply place the new indicator in the Indicators tab and restart the application to make sure that the changes have perfectly synced and start using your custom indicator normally.
Automated Trading
In the beginning, a trader wants to generate a mechanism that helps in executing the trades even when the trader is not available. In simple words, it is like creating a bot that buys and sells according to the instructions. MetaTrader 4 has the credit to its name of offering automated trading to its traders. Today, more than 80% of trades are automated on MT4. This feature, even though is very simple, it requires deep knowledge of programming through which you can create your own EA (Expert Advisor). If a trader does not have knowledge of programming, they can either ask fellow traders for the code or they can hire someone who can perform the programming on their behalf. There are no restrictions in this case.
Copy Trading
Learning from the very best in business always remain a healthy option, especially in trading where the risk factor is always high. MetaTrader 4 allow you to copy the trades performed by other successful traders. The traders on MetaTrader 4 who provide their forex trades for public access become signal providers. Please note they may charge a reasonable fee for sharing their trades. By copying their trades, significant profits can be earned. For the sake of convenience, there is a separate Signals tab of your trading platform where the Signal providers are available. The most successful ones are displayed at the top while the least successful ones appear later. Simply subscribe to the signals and start the copying process. The signal will work for you as per the parameters of trading you have set initially.
Single-Click Transfer
MetaTrader 4, as already discussed, is supported by a wide number of online brokers. Even if you are not satisfied with a certain broker, you can easily switch without closing your account on MT4. Simply create your profile on MT4. When you want to switch, just copy the profile and upload it into the new broker's MetaTrader 4. Not only does it save you time but provide flexibility to switch to platforms that you find more beneficial.
Conclusion
From the above discussion of exclusive features, we can safely state that MetaTrader 4 is the best platform for beginners. Before trying other trading platforms, we would recommend you to try it at least once. Pro tip: If you are going for a new online broker, make sure to check if they are MT4 compliant.